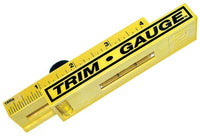 TRIM GAUGE
Sometimes the design of a product can be so simple that it's a wonder why it's new to the market. That definitely can be said about Trim Gauge®, a new multi-purpose tool now available that will save Tradesmen and Do-It-Yourselfers both time and money.
The patented design of the Trim Gauge® allows for increased productivity and accuracy in such areas as carpentry, siding, window replacement, adjusting power tool settings, ceramic tile, hardware placement, masonry, flooring, glass/mirror, vinyl graphics, sewing, crafts, and much more.
Testimonials
I think it might revolutionize torpedo levels in a way that other manufacturers haven't yet dreamed.

Gary Katz
I bought this tool after seeing it demonstrated at a show. It is an amazingly handy device that I find my self constantly using. Well worth the price.

Peter Mandel, Freehold, NJ
Find space in your shop apron or tool pouch for the Trim Gauge.

Workbench Magazine
This is the best bang for your buck. I do a lot of woodwork and it is always is in my pouch. A must buy!

Ed, Staten Island, NY
Brumley Tools USA LLC
An American-based company steeped in traditional building practices provides the building, woodworking and DIY industry a fast-efficient measuring device that when locked down becomes the jig or fixture you are ultimately going to make when the repetitive mark presents itself.